Close
We've detected you are coming from a location outside of United Kingdom.
Would you like to:
DATA CENTERS
As the global digital landscape evolves, data centers are increasingly the foundation of modern life. Downtime is not an option. EnerSys supports your essential infrastructure with flexible, high-energy density back-up power solutions that ensure uninterrupted power to mission-critical applications. Keeping data safe and maintaining system up-time.
Enormous amounts of data are being created, transferred and consumed by every industry sector. When there is a power outage, your data center UPS battery becomes the last line of defense to ensure critical infrastructure remains operational. It bridges the gap until the UPS generator is up-to-speed. Data center owners and operators face additional pressure to lower energy use, while maximizing revenue and improving TCO. EnerSys® can help overcome these challenges. With a worldwide footprint and local infrastructure, we install reliable energy storage solutions and deliver battery maintenance and end-of-life recycling processes that support your global data center deployment.
Data centers are evolving—scaling up, growing their workload and undertaking more multi-user hosting services. UPS are also changing— delivering shorter autonomy times to counter rising incidences of electrical failure. Both of which place new demands on the UPS battery. When there is a power outage, your UPS battery reinforces your critical infrastructure to initiate the UPS generator and ensure business continuity until it is up-to-speed. Therefore, a UPS is only as good as your batteries, the most critical component in your data center.
EnerSys® continually advances our energy storage solutions to offer greater reliability, longer service life and reduced maintenance. Our Thin Plate Pure Lead (TPPL) technology with high energy density optimizes energy use and space within the data center to maximize revenue and improve TCO. Our worldwide footprint and local infrastructure support the installation, maintenance and end-of-life recycling processes for your global data center deployments.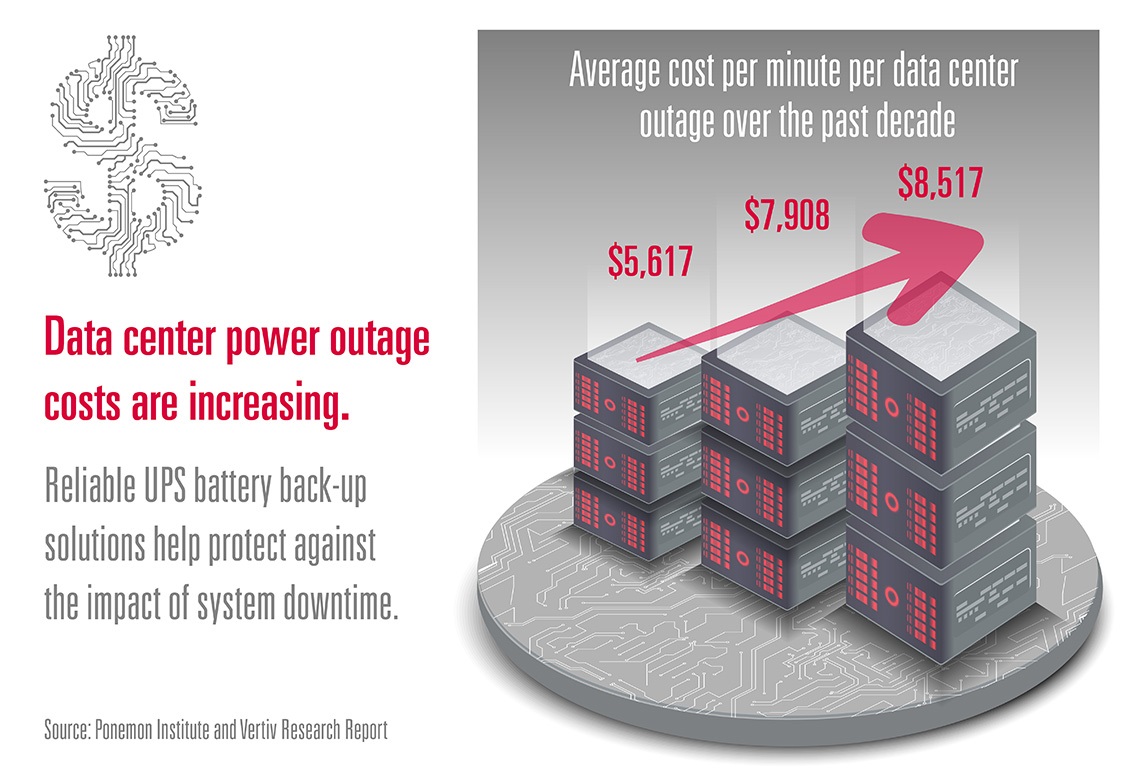 Find out how to optimize products for your energy storage needs using our Battery Sizing Program.
RANGES FOR DATA CENTERS
Data centers require large amounts of power. When there is a utility feed interruption, mission-critical systems must stay online. With a complete range of backup power solutions, EnerSys® meets the growing demands of modern data center environments.
Data center outages have a financial impact, reduce productivity and consumer perception. That's why the UPS battery in a data center can never fail.

Paul Willoughby, EnerSys Sales Manager
NEED HELP FINDING THE BEST SOLUTION?
Get in touch and we can develop a unique solution to meet your stored power solution needs