EnerSys Receives MHEDA 2020 Most Valuable Supplier (MVS) Award
READING, Pennsylvania, February 5, 2020 -
EnerSys (NYSE:ENS), the global leader in stored energy solutions for industrial applications, has earned the 2020 Most Valuable Supplier (MVS) Award from the Material Handling Equipment Distributors Association (MHEDA). Each year, this prominent industry accolade is granted to fewer than 10 percent of all member companies and acknowledges organizations that have demonstrated a strong commitment to their dealer network, employees and community in 2019.
"For years, we have admired MHEDA's mission to provide the industry with access to important resources, networking and training programs in order to better serve our colleagues, customers and community," said Chad Uplinger, Vice President, Motive Power Americas at EnerSys. "We are honored to receive the 2020 MVS award. As we embark on the new decade ahead, we will continue to work closely with partners like MHEDA to offer innovative education services and support that ensure our team members stay up-to-date on the latest trends and business practices."
To qualify for the 2020 MVS Award, EnerSys was required to meet a series of criteria in the key areas of Industry Advocacy, Distributor Advocacy, Business Networking, Continuing Education and Business Best Practices. In addition to confirming an ongoing commitment to safety and employee training, award recipients also participated in MHEDA's Learning Management System (LMS), which provides member access to professional development courses.
For more information about EnerSys and its full line of products, systems, and support, visit www.enersys.com.
ABOUT ENERSYS
EnerSys, the global leader in stored energy solutions for industrial applications, manufactures and distributes reserve power and motive power batteries, battery chargers, power equipment, battery accessories and outdoor equipment enclosure solutions to customers worldwide. Motive power batteries and chargers are utilized in electric forklift trucks and other commercial electric powered vehicles. Reserve power batteries are used in the telecommunication and utility industries, uninterruptible power supplies, and numerous applications requiring stored energy solutions including medical, aerospace and defense systems. EnerSys provides highly integrated power solutions and services to broadband, telecom, renewable and industrial customers. Outdoor equipment enclosure products are utilized in the telecommunication, cable, utility and transportation industries, and by government and defense customers. The company also provides aftermarket and customer support services to its customers from over 100 countries through its sales and manufacturing locations around the world.
ABOUT MHEDA
The Material Handling Equipment Distributors Association (MHEDA) is the premier trade association dedicated to serving all segments of the material handling business community. MHEDA represents close to 650 companies in the material handling equipment business. Located in suburban Chicago, the association provides services to companies seeking to improve their business through education, networking, benchmarking and best practices. For more information, visit www.mheda.org.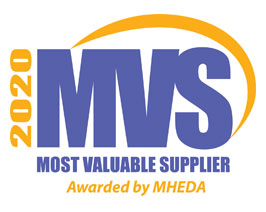 NEED HELP FINDING THE BEST SOLUTION?
Get in touch and we can develop a unique solution to meet your stored power solution needs