Close
We've detected you are coming from a location outside of United Kingdom.
Would you like to:

EnerSys Marks Key Milestone of 50,000th NexSys® Battery Sale in the U.S.
READING, Pennsylvania, August 13, 2019 -
EnerSys (NYSE:ENS), the global leader in stored energy solutions for industrial applications, recently delivered its 50,000th NexSys® battery to one of California's leading community colleges, Santa Monica College. NexSys® batteries will provide the college with a power solution for its fleet of personnel carriers. These electric utility vehicles, manufactured by Columbia Vehicle Group Inc., are used by Santa Monica College for campus operations.

Suitable for a wide range of industrial and commercial vehicle applications, NexSys® batteries are constructed with proprietary Thin Plate Pure Lead (TPPL) technology that allows them to deliver a long, virtually maintenance-free life cycle, optimized cycling performance and high daily energy throughput. The batteries can be fast-charged in less than two hours and can also be partially charged, making them ideal for opportunity charging. Additionally, NexSys® batteries never require watering or weekly equalization, reducing labor demands and maintenance costs.

"Since establishing a relationship with Columbia Vehicle Group almost two years ago, EnerSys has been providing the company with a state-of-the-art stored power solution for its diverse line of electric utility and industrial vehicles and personnel carriers," said Tim Wittig, director, NexSys® battery products Americas at EnerSys. "Reaching this milestone is a testament to the value that NexSys® batteries deliver in terms of increased uptime, reduced maintenance and lower total cost of ownership."

Constructed with 99 percent pure lead, NexSys® batteries have the ability to deliver more power than conventional flooded lead acid batteries in up to 30 percent less space. The batteries are also ready to work after months of inactivity, offering up to a 2-year shelf life at 77°F (25°C). For schools or universities that store equipment over the summer, the extended shelf life helps them avoid self-discharged batteries in the fall.

"Our vehicles cannot perform effectively without being backed by a superior power solution," said Travis Meireis, national sales manager at Columbia Vehicle Group Inc. "The NexSys® battery is a dependable product with years of success in the material handling industry, and we're pleased to be able to work with EnerSys to deliver a full package solution for our customers."

Before collaborating with EnerSys, Santa Monica College would go through their conventional flooded lead acid batteries in 18-36 months, resulting in additional out-of-pocket costs to replace their vehicle power. Furthermore, the college was dealing with an aging fleet of vehicles, which presented its own set of challenges. Thanks to the NexSys® batteries installed in the new Columbia-manufactured personnel carriers, the college has already seen a reduction in its operating, maintenance and battery replacement costs, resulting in a return on investment with an overall lower total cost of ownership.

"We've needed to upgrade our battery and vehicle fleets for some time; the batteries in particular were in constant need of replacement," said Cynthia Moore, director of procurement, contracts and logistics for Santa Monica College. "The NexSys® batteries are already helping us reduce maintenance and improve productivity, and their anticipated lifecycle should help us streamline operations for years to come."

For more information about EnerSys and its full line of products, systems and support, visit www.enersys.com.

ABOUT ENERSYS

EnerSys, the global leader in stored energy solutions for industrial applications, manufactures and distributes reserve power and motive power batteries, battery chargers, power equipment, battery accessories and outdoor equipment enclosure solutions to customers worldwide. Motive power batteries and chargers are utilized in electric forklift trucks and other commercial electric powered vehicles. Reserve power batteries are used in the telecommunication and utility industries, uninterruptible power supplies, and numerous applications requiring stored energy solutions including medical, aerospace and defense systems. With the recent Alpha acquisition, 2366 Bernville Road | Reading, PA 19605 | 800-538-3627 | www.enersys.com EnerSys provides highly integrated power solutions and services to broadband, telecom, renewable and industrial customers. Outdoor equipment enclosure products are utilized in the telecommunication, cable, utility and transportation industries, and by government and defense customers. The company also provides aftermarket and customer support services to its customers from over 100 countries through its sales and manufacturing locations around the world.

ABOUT SANTA MONICA COLLEGE
Founded in 1929, Santa Monica College (SMC) is a California Community College accredited by the Accrediting Commission for Community and Junior Colleges (ACCJC) of the Western Association of Schools and Colleges (WASC). In addition to being California's leader in transfers to the University of California system, the University of Southern California, and Loyola Marymount University, SMC also offers more than 110 career training degrees and certificates. SMC provides news and cultural enrichment through its NPR radio station KCRW (89.9 FM) and The Broad Stage at the SMC Performing Arts Center as well as lifelong learning through distinctive programs such as its Emeritus Program for older adults.

ABOUT COLUMBIA VEHICLE GROUP
Based in Reedsburg, Wisconsin, Columbia is a premier electric vehicle manufacturer whose history dates back to 1946. Columbia has one of the most expansive electric vehicle product line-ups in the world, producing electric vehicles for private use as well as commercial and industrial applications that include models that move from 1 to 24 people, carry up to 6,000 pounds of payload, tow up to 16,000 pounds and travel up to 25 miles per hour. To learn more about Columbia, visit http://columbiavehicles.com/.

Columbia Vehicle Group, Inc. is a member of the Nordic Group of Companies, Ltd. Nordic Group (headquartered in Baraboo, Wisconsin) is a privately-held holding company consisting of subsidiaries with 22 facilities, and 24 marketing units around the world with over 2,400 associates. Nordic Group member companies manufacture and distribute plastic, seating and transportation products worldwide for industrial, commercial and consumer markets. For more information, visit www.nordicgroup.com.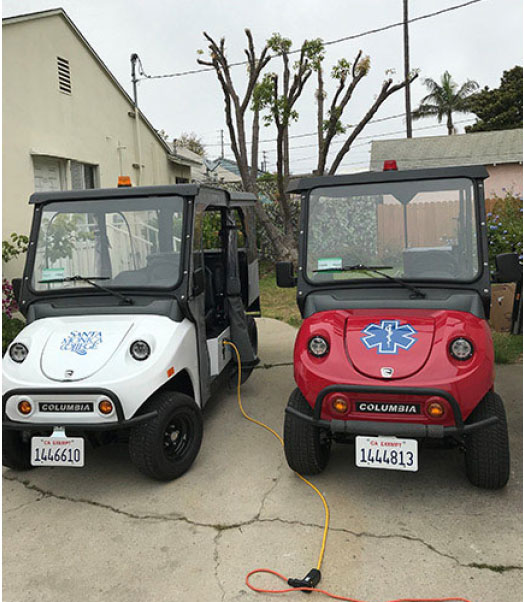 Two personnel carriers, manufactured by Columbia Vehicle Group Inc. and powered by NexSys® batteries, are ready for use at the Santa Monica College campus.
NEED HELP FINDING THE BEST SOLUTION?
Get in touch and we can develop a unique solution to meet your stored power solution needs