Close
We've detected you are coming from a location outside of United Kingdom.
Would you like to:
OUTSIDE PLANT
The power of the broadband network to keep us connected is indisputable, and the power within that network has become increasingly critical. The broadband communication network requires reliable, intelligent power and for more than 40 years we have set the standard for delivering it.
The access network has always required reliable power to function. Beginning with traditional Hybrid Fiber Coax (HFC) actives that were designed to stretch the reach of RF communications. Then, analog optical nodes connected the RF network to the fiber backbone. Today, Digital Access Architecture (DAA) nodes combine optical transport, RF launch points and even edge computing in a single device. Reliable power has never been more critical for reliable network operations than today.
This need for reliable power has created a vast backhauled broadband power grid that is enabling new opportunities in small cell, Wi-Fi, IoT and security and surveillance for broadband providers. As the value of the HFC network continues to expand, so will the need for robust, reliable and intelligent powering.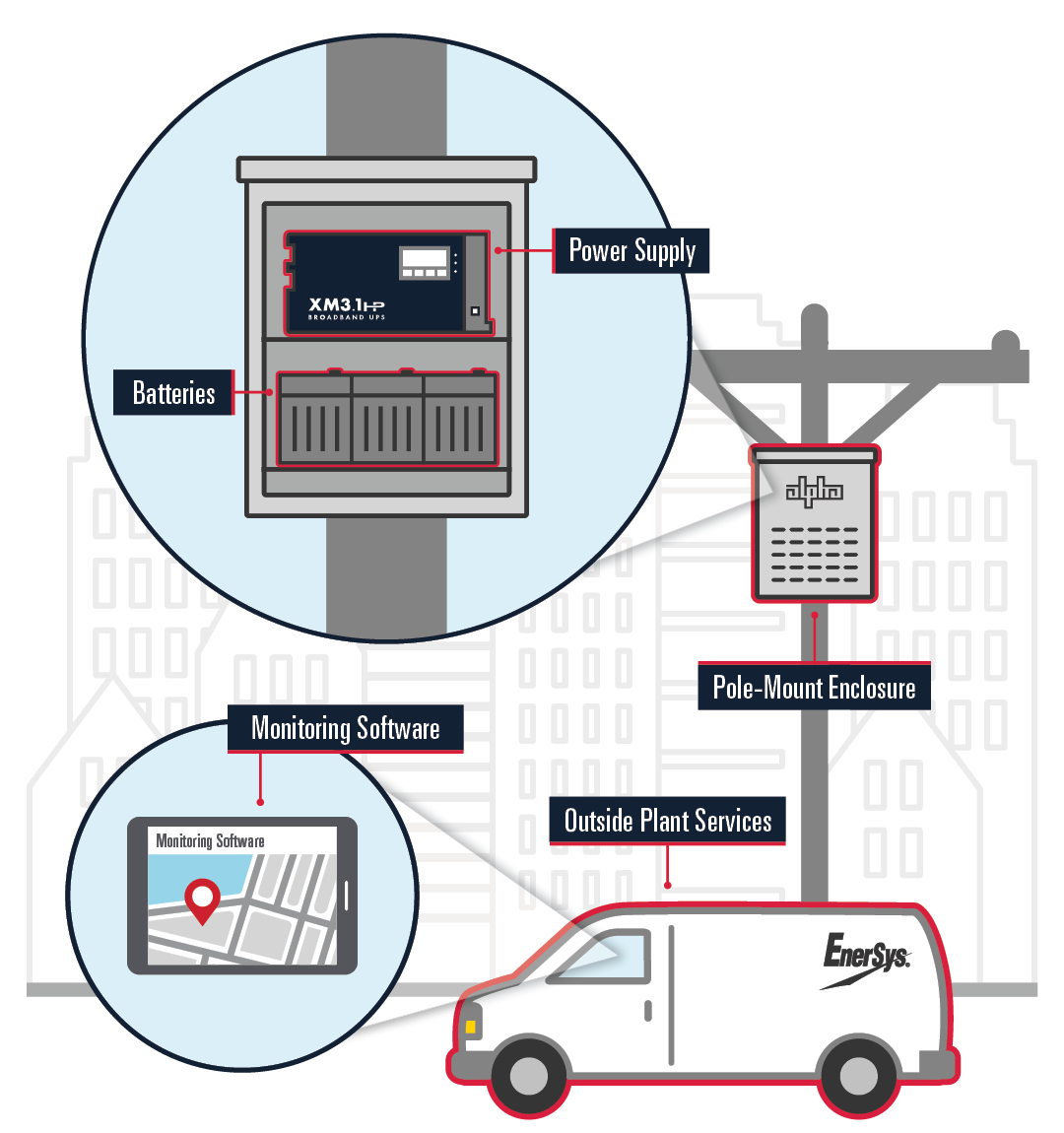 Offering the most complete network powering system solutions available, we are the global leader in HFC network powering. Beginning with our reliable, intelligent, high efficiency power supplies with embedded DOCSIS® 3.1 communication modules, the heart of our solutions are designed to ensure your network never skips a beat.
Additionally, our temperature resilient, high-capacity AlphaCell® batteries provide industry leading float service life and energy capacity ensuring maximum backup capacity for your network. Our line of Alpha® enclosures provide exceptional passive thermal management while protecting the power system from the elements and providing security against theft. Finally, our powerful remote monitoring and maintenance software is optimized when used to monitor our intelligent power supply with the embedded Apps+ platform.
POWER EQUIPMENT SOLUTIONS
Providing reliable, robust power in extreme environments for over 40 years. We backup the cable broadband network. The power behind the internet.
SITEFLEX® SYSTEMS
At EnerSys® we understand the need to provide a safe home for your energy assets! Across industrial, renewable, and telecoms applications, the power equation is changing. So, we've created modular, scalable and sustainable power systems that are your new network superhero.
Discover our robust enclosures for backup battery systems and allow them to protect your infrastructure.
Learn More
EnerSys Services
From project initiation to end-of-life, our global suite of services supports your backup power needs while our global design, engineering and service specialists are ideally positioned to support your projects from conception and installation to on-site maintenance and after-sales service.
Broadband network power requirements are evolving with new 10G, enabling access network architectures, allowing us to innovate and assure network power is more reliable for the future.

Rob Anderson, EnerSys Director of Product Management
NEED HELP FINDING THE BEST SOLUTION?
Get in touch and we can develop a unique solution to meet your stored power solution needs