Close
We've detected you are coming from a location outside of United Kingdom.
Would you like to:
NETWORK ACCESS
For wireline service providers, high bandwidth delivery like fiber to the home (FTTH), digital subscriber line (DSL), and fixed wireless require broadband equipment located far from the central office, often in outdoor environments.
Broadband equipment can be powered locally, with utility AC connecting to a power conversion device dedicated to the equipment, or remotely, with power delivered from a centralized site using copper cable pairs. The right solution depends on location, access to utility power, and the power consumption of the broadband equipment.
EnerSys® local power solutions include wide varieties of rectifiers, ruggedized UPS systems, a full suite of batteries and outdoor cabinets that can be tailored to each application. For remote line power (RLP), we have the broadest range of upconverters and downconverters to power DC or AC loads.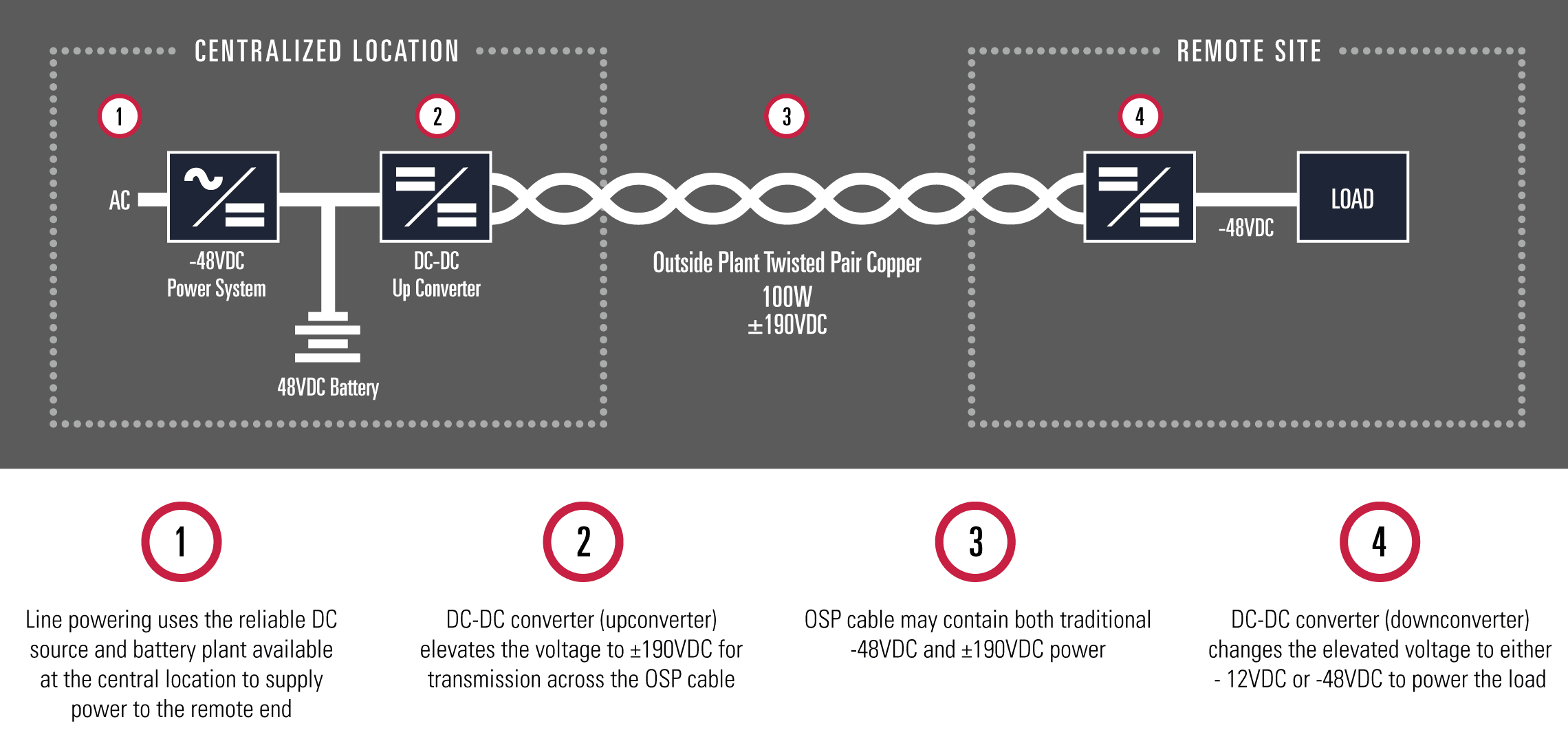 Our wide range of outside plant cabinets and rugged power systems can be tailored to any FTTH, DSL or fixe wireless application. Cabinets include power systems of various sizes plus space for broadband equipment and batteries. Our extensive line of shelf-mounted power systems come with various distribution options and a built-in system controller. EnerSys batteries include traditional Valve Regulated Lead Acid (VRLA) as well as Thin Plate Pure Lead (TPPL) varities.
As the global leader in deployment of RLP systems, we offer a wide range of solutions. Up converter options include modular, indoor units as well as sealed devices installation outdoors. At the far end, our various downconverter options include IP68 sealed modules.
ENERGY STORAGE SOLUTIONS
As the world leader in stored energy solutions, EnerSys provides integrated systems and services for many types of markets and industries.
SITEFLEX® SYSTEMS
At EnerSys® we understand the need to provide a safe home for your energy assets! Across industrial, renewable, and telecoms applications, the power equation is changing. So, we've created modular, scalable and sustainable power systems that are your new network superhero.
Discover our robust enclosures for backup battery systems and allow them to protect your infrastructure.
Learn More
EnerSys Services
From project initiation to end-of-life, our global suite of services supports your backup power needs while our global design, engineering and service specialists are ideally positioned to support your projects from conception and installation to on-site maintenance and after-sales service.
For DSL, FTTH and fixed wireless, we offer DC and AC solutions, remote line power, cabinets and batteries—all designed to match the requirements of the particular application.

Satheesh Hariharan, EnerSys Senior Product Manager
NEED HELP FINDING THE BEST SOLUTION?
Get in touch and we can develop a unique solution to meet your stored power solution needs