Close
We've detected you are coming from a location outside of United Kingdom.
Would you like to:
FORKLIFTS & PALLET TRUCKS
Intelligent, flexible solutions for an application that powers the world's supply chain. Your material handling equipment keeps warehousing, logistics, retail and manufacturing moving. Let EnerSys® supply you with world-class power technology to keep your operations moving.
In today's material handling industry, time and operational costs are some of your biggest challenges. Idle equipment, battery change out rooms and time-consuming battery maintenance hinder productivity and profitability. The correct power solution can overcome these challenges, giving you those resources back to focus on what you do best, moving product.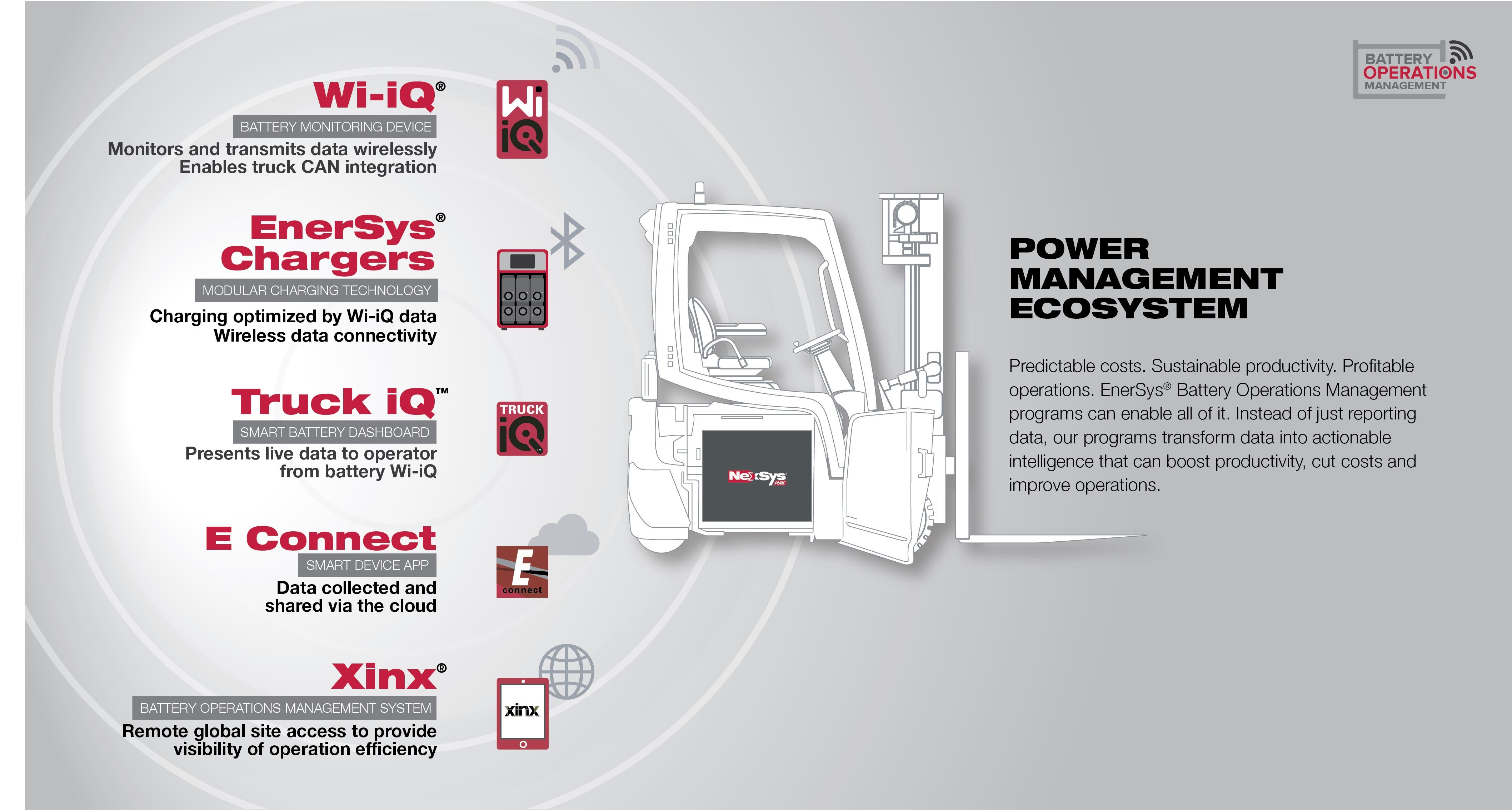 Traditional power sources are still very valid in today's landscape. EnerSys® can supply industrial batteries and chargers for every budget and application. From Flooded Lead Acid (FLA) batteries to virtually maintenance-free Thin Plate Pure Lead (TPPL) and Lithium-ion (Li-ion) batteries, complimented by state-of-the-art modular chargers and latest technology monitoring and data analysis.
However, to achieve next level efficiency and safety, we offer a range of advanced products. Our advanced NexSys® battery and charger solutions provide simple, productive and predictable power that eliminate lengthy battery maintenance and prevent unplanned downtime. NexSys power solutions will increase your operational uptime and reduce your Total Cost of Ownership (TCO). NexSys gives a superior power experience, delivering high productivity, low upkeep, high reliability and low risk.
Modeled for success, our innovative Ensite® software enables you to make confident, data driven decisions regarding what power solution is best for your unique fleet. This advanced modeling software compares multiple battery chemistries and identifies the lowest TCO solution, provides performance reviews and predictive ROI reports.
By transforming data into actionable intelligence, the Xinx™ and Wi-iQ® reporting systems from EnerSys enable your battery operation to achieve and sustain your productivity and profitability goals.
RANGES FOR FORKLIFTS AND PALLET TRUCKS
Flexible and efficient solutions, designed for material handling equipment.
EnerSys Services
Our mission is to provide our customers with a consistent, world-class service experience that maximizes the uptime of the EnerSys products that they rely upon. We will perform these services in a culture of respect for all, integrity, and the highest safety levels in our industry.
We are achieving better warehouse management, with no interruptions to shifts or workflow. EnerSys® has successfully tailored a solution to fit.

Ezio Pirondi, GAER Site Manager
NEED HELP FINDING THE BEST SOLUTION?
Get in touch and we can develop a unique solution to meet your stored power solution needs