Close
We've detected you are coming from a location outside of United Kingdom.
Would you like to:
Macro Cells
A 5G macro cell using massive MIMO technology and operating as an edge compute site may require up to twice as much power as a 4G site.
While power requirements increase, the corresponding power per bit is lowered due to the tremendous processing power of the 5G site. To meet these processing needs, upgrading the macro cell power infrastructure requires the deployment of more power conversion equipment and energy storage. New powering techniques are also required—power needed at the top of the antenna may originate at the base and be carried via cabling to the top. Similarly, remote radio heads distributed outwardly from the cell site may be powered from the base station using some form of remote power delivery.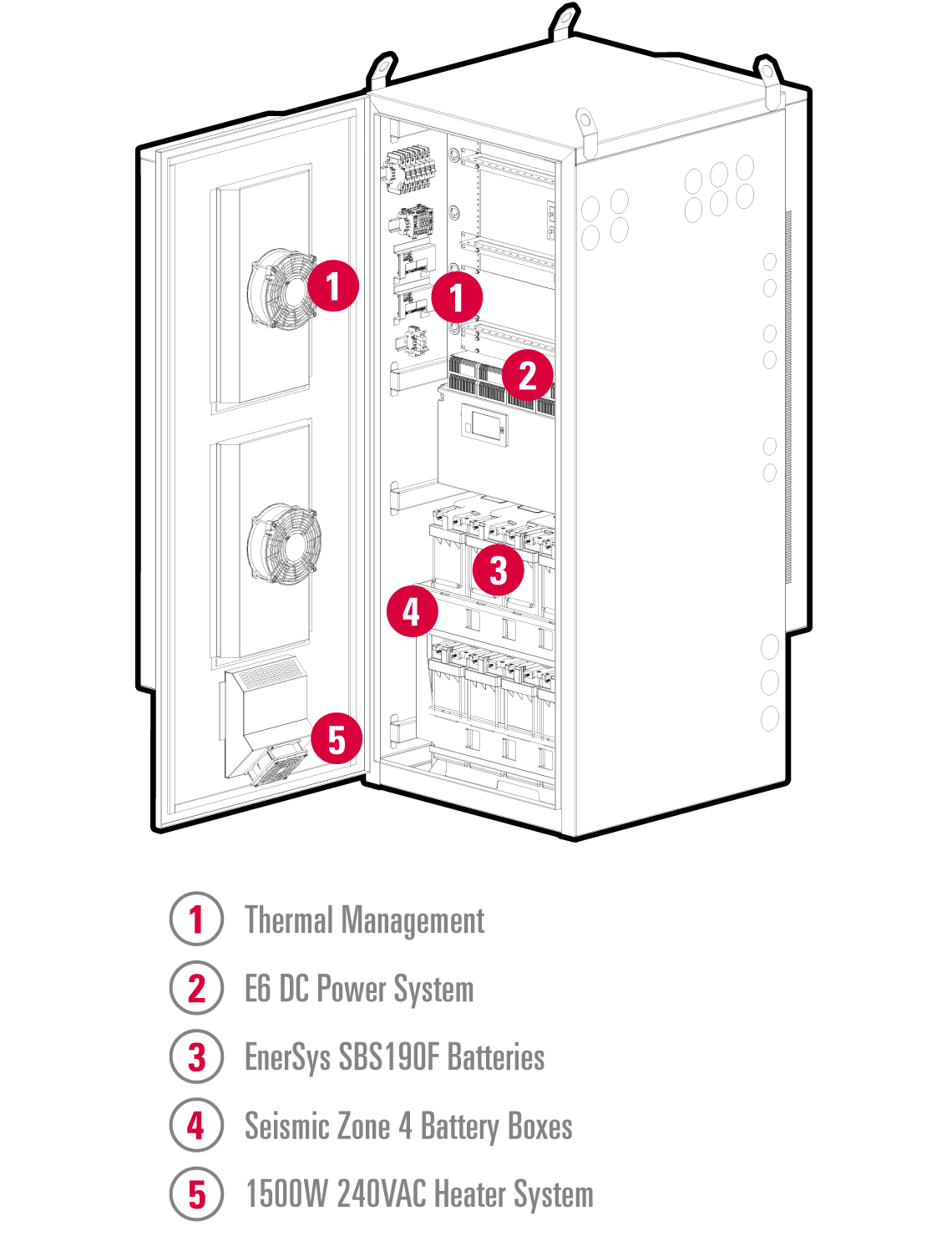 EnerSys® is a full-service provider for macro cell upgrades. Our Alpha® DC rectifier systems are compact, high efficiency units with expanded distribution positions for simultaneously powering multiple devices at the site. The power system is managed by an intelligent controller that enables smart site management, monitoring and alarming.
Our Purcell Systems® site support cabinets provide space for radio equipment and power, while battery support cabinets provide additional battery reserve capacity. These GR-487 compliant cabinets feature cutting-edge thermal management systems providing 6000W user thermal capacity.
Our broad suite of batteries includes Valve Regulated Lead Acid (VRLA) and advanced technologies. An ideal solution for macro cell applications is our PowerSafe® SBS XL batteries which use Thin Plate Pure Lead (TPPL) technology for longer life at elevated temperatures.
To complete the process, our services range from site planning and engineering to installation and commissioning. Once the site is turned up, we offer after-market services such as facility management and preventative maintenance.
ENERGY STORAGE SOLUTIONS
As the world leader in stored energy solutions, EnerSys provides integrated systems and services for many types of markets and industries.
SITEFLEX® SYSTEMS
At EnerSys® we understand the need to provide a safe home for your energy assets! Across industrial, renewable, and telecoms applications, the power equation is changing. So, we've created modular, scalable and sustainable power systems that are your new network superhero.
Discover our robust enclosures for backup battery systems and allow them to protect your infrastructure.
Learn More
EnerSys Services
From project initiation to end-of-life, our global suite of services supports your backup power needs while our global design, engineering and service specialists are ideally positioned to support your projects from conception and installation to on-site maintenance and after-sales service.
Our combination of cabinets, power conversion and batteries uniquely positions us to provide solutions that can be tailored to our customers' needs.

Nick Durgan, EnerSys Senior Product Manager
NEED HELP FINDING THE BEST SOLUTION?
Get in touch and we can develop a unique solution to meet your stored power solution needs