Close
We've detected you are coming from a location outside of United Kingdom.
Would you like to:
SMART CITIES/IoT
New IoT applications are appearing every day. From wearable healthcare monitors to autonomous farms and factories, IoT is changing the way we live. Every IoT application uses sensors to collect and upload data to computing devices for processing, many with the help of the existing cable broadband network to provide connectivity and scalability.
Millions of Internet-of-Things (IoT) sensors across a vast number of applications all require secure, reliable communications for data to reach its intended destinations. IoT nodes collect data from these individual sensors, bridging the gap between local wireless sensors and the internet, forwarding vast amounts of real-time sensor data to application specific processing devices.
IoT nodes come in many forms, from LoRa wireless gateway devices to 5G Radio Units (RU) supporting Massive Machine-Type Communications (mMTC). Regardless of the technology operating today or tomorrow, IoT nodes will always need reliable communications and power for continuous, uninterrupted operation.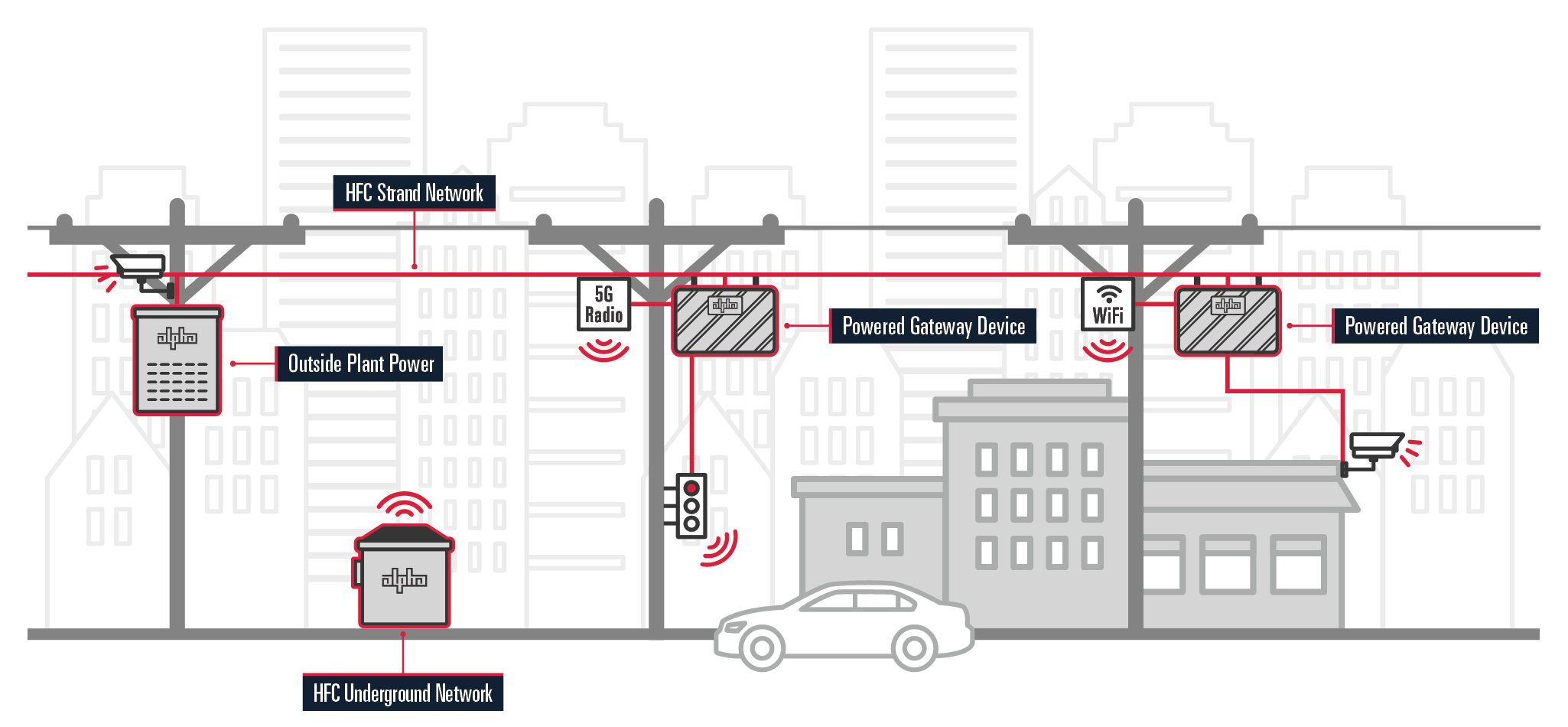 With more than 1.5 million miles of Hybrid Fiber Coaxial (HFC) plant globally, the vast area covered by the cable broadband network provides the ideal access point for an IoT node to collect and forward localized sensor data. The only challenge remaining is interfacing a wide range of IoT node equipment to the unique power and communication formats available within the broadband landscape.
The EnerSys® AlphaGateway® product line solves these challenges. AlphaGateway devices connect directly to the HFC cable, accessing 90VAC power and converted to voltages and formats needed to reliably power any IoT equipment. An integrated DOCSIS® modem provides an Ethernet backhaul interface from the IoT device to the cable network. Each AlphaGateway device is designed to provide years of reliable service in harsh, outdoor environments. Multiple powering configurations including AC, DC and PoE are available to support current and future IoT needs.
POWER EQUIPMENT SOLUTIONS
Providing reliable, robust power in extreme environments for over 40 years. We backup the cable broadband network. The power behind the internet.
EnerSys Services
From project initiation to end-of-life, our global suite of services supports your backup power needs while our global design, engineering and service specialists are ideally positioned to support your projects from conception and installation to on-site maintenance and after-sales service.
Interfacing IoT nodes to HFC networks can be challenging. AlphaGateway was designed for this purpose.

Toby Peck, EnerSys Director of Product Management
NEED HELP FINDING THE BEST SOLUTION?
Get in touch and we can develop a unique solution to meet your stored power solution needs