Close
We've detected you are coming from a location outside of United Kingdom.
Would you like to:
Cable Broadband
Cable Broadband HFC networks are ideal for connecting and powering the thousands of outdoor small cells needed for 5G. EnerSys® solutions enable operators to provide power and backhaul to MNOs.
EnerSys® Solutions for 5G Cable Broadband
5G is bringing new revenue-generating opportunities to Cable Broadband operators through infrastructure and service offerings. 5G will require hundreds of thousands of small cell radios deployed across urban landscapes, bringing significant infrastructure challenges for 5G network builders. The vast and reliable HFC infrastructure used to deliver Internet and television programming to millions of homes and businesses is ideal for small cell connectivity, greatly improving deployment schedules while minimizing infrastructure and construction costs. In addition to infrastructure offerings, cable operators are partnering with 5G service providers to resell mobile connectivity as part of their service bundles, providing added value for longer customer retention.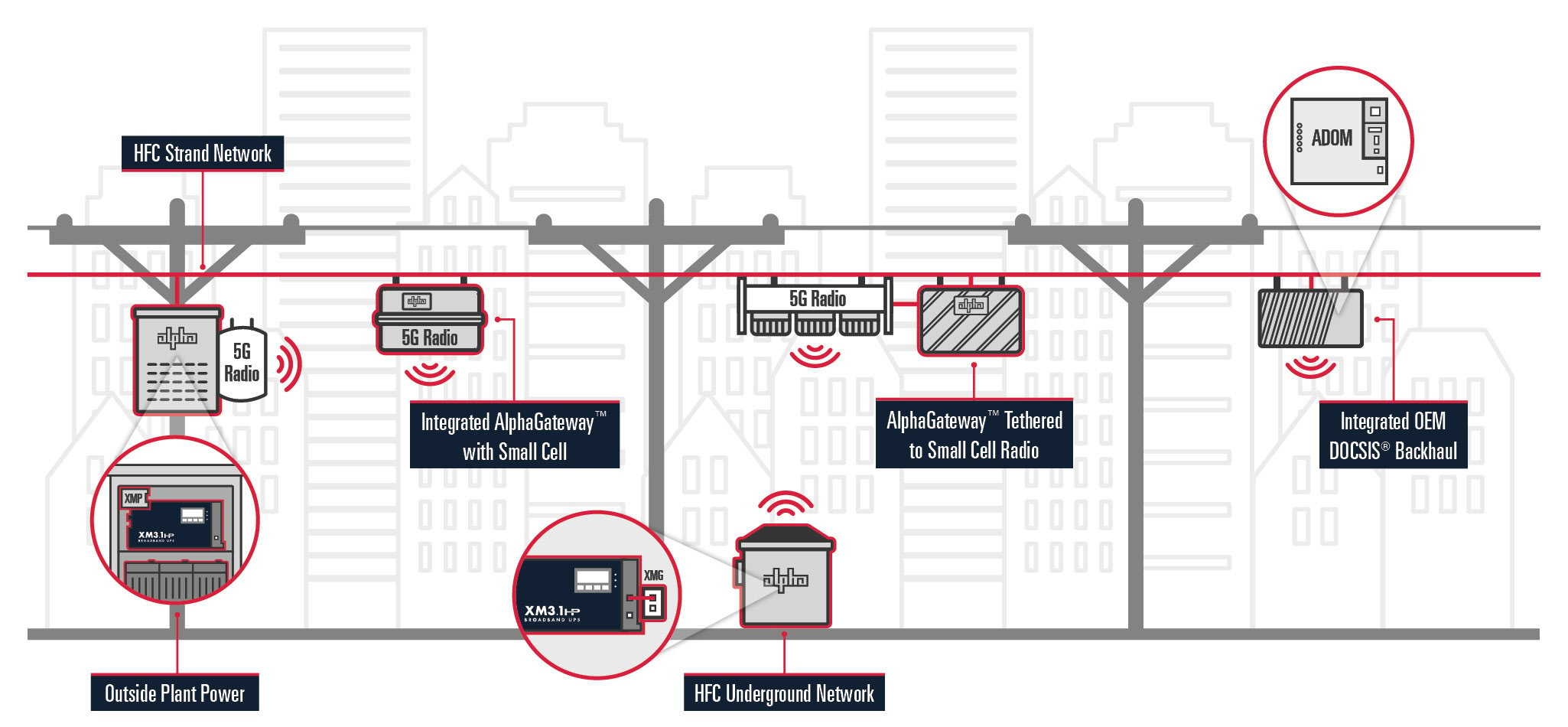 The Cable Broadband network is a robust infrastructure ideal for rapid deployment of 5G radio equipment. EnerSys® solutions featuring AlphaGateway™ devices, power supplies and cabinets provide cost-effective, reliable HFC connectivity for standard 5G equipment. Enersys® also provides hardened HFC power and DOCSIS® OEM solutions for radio integration.
Small Cell Power
Energized coaxial cables deliver robust power throughout most populated cities and municipalities where small cells will be deployed. Extracting power from HFC coax requires specialized interfaces and power conversion to maintain the integrity of the HFC network. EnerSys® AlphaGateway™ devices and OEM integration solutions, designed for the harshest environments and specifically for the HFC network, provide reliable HFC power connectivity to radio equipment.
Fixed Wireless Power
Fixed wireless and small cells serve different purposes but are similar in terms of powering. The flexibility of HFC power enables delivery to locations on or near the coax strand or underground network cables. EnerSys® AlphaGateway™ devices provide radios with clean, reliable power, often with battery backup.
DOCSIS® 3.1 Backhaul
Cable Broadband delivers high speed, low latency connectivity over fiber and coaxial cables using DOCSIS® specifications and cable modems. EnerSys® has been building cable modems for over 15 years, specifically for outdoor HFC communications. Our products meet or exceed agency and industry standards for safety, reliability, and operation.
EnerSys® provides DOCSIS® 3.1-enabled AlphaGateway™ devices and OEM solutions for fast, reliable, cost-effective 5G backhaul connectivity.
Leveraging HFC Infrastructure to deploy 5G
5G has molded its way to the top of popular consciousness, with promises of lightning-fast, low-latency connectivity and ubiquitous coverage. While improving user experiences in gaming, streaming and online reliability, 5G will open doors to new worlds of connectivity such as autonomous transportation, augmented and virtual reality and smart city automation.
Find Out More
POWER EQUIPMENT SOLUTIONS
EnerSys® is a leading supplier of energy storage, DC and AC power systems, remote power systems, enclosures, distribution equipment, and intelligent network controls for communications networks.
Gateway Devices
CableUPS UPS Power Supplies
UPS POWER SUPPLIES
NON-STANDBY CABLE POWER
Outside Plant Batteries
System Monitoring
Enclosure Systems
CABLE POWER ENCLOSURES
SYSTEM ENCLOSURES
GROUND-MOUNT OPTIONS
FIBER ENCLOSURES AND MANAGEMENT
EnerSys Services
From project initiation to end-of-life, our global suite of services supports your backup power needs while our global design, engineering and service specialists are ideally positioned to support your projects from conception and installation to on-site maintenance and after-sales service.
NEED HELP FINDING THE BEST SOLUTION?
Get in touch and we can develop a unique solution to meet your stored power solution needs