Close
We've detected you are coming from a location outside of United Kingdom.
Would you like to:
VEHICLES & ENGINE START
Exceptional power solutions, no matter what vehicle you drive—from a long-haul truck to supercar.
Designed for the demands of modern vehicles and machinery the ODYSSEY® Extreme and Performance Series battery ranges can supply a solution for almost every application.
With an ODYSSEY® battery you will be assured that it has been tried and tested throughout the world to deliver exceptional results for modern applications in the most testing environments, from demanding start-stop requirements to operating in extreme temperatures up to a scorching +80°C or down to a totally freezing -40°C.
ODYSSEY® Batteries
Click an icon below to see how ODYSSEY® batteries can provide a solution for your application requirements.
Twice the overall power and three times the service life of conventional batteries. Some batteries offer enormous cranking power. Others, deep cycle reserve power. Unbeatable ODYSSEY® Extreme Series™ batteries do both.
Even at very low temperatures, ODYSSEY Extreme Series batteries have the power to provide engine-cranking pulses in excess of 2250A for 5 seconds—double to triple that of equally sized conventional batteries. And they can handle 400 charge-discharge cycles to 80% depth of discharge.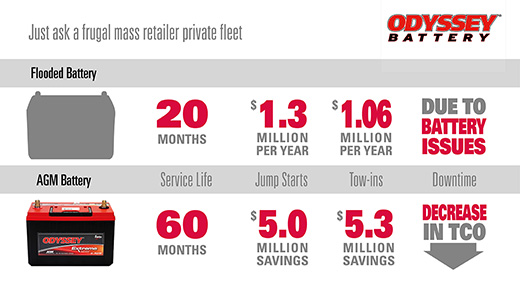 RANGES FOR VEHICLES & ENGINE START
A new generation of battery to meet the power demands of modern vehicles and machinery.
I am proud of our new generation battery technology, the ODYSSEY® battery AGM² provides a cost-effective solution to solve vehicle breakdown issues within the industry.

Dr. Thomas Verghese, EnerSys Technical Manager
NEED HELP FINDING THE BEST SOLUTION?
Get in touch and we can develop a unique solution to meet your stored power solution needs