Close
We've detected you are coming from a location outside of United Kingdom.
Would you like to:
MARINE
Reliable and available stored power and energy are the backbone of marine applications.
Marine radios, trolling motors, auxiliary navigation, pumping systems, engine starting, hydraulics, ventilation and lighting all are critical to your safety, vessel reliability and enjoyment in marine applications. Boat systems always require power availability, including when the engine or generators are off.
EnerSys® provides a range of  2, 6 and 12V  batteries with hundreds of configurations possible giving maximum flexibility to create power solutions for  every application —whether for a jet ski, leisure or fishing boat, emergency lifeboat, super yacht or super tanker. Our ranges provide the best stored energy and combined cyclability power solution for marine applications of any lead acid product on the market.
With military-grade heritage that the largest navies rely upon, backed with a global service and supply network, you can be sure that EnerSys products will perform when and where you need them most.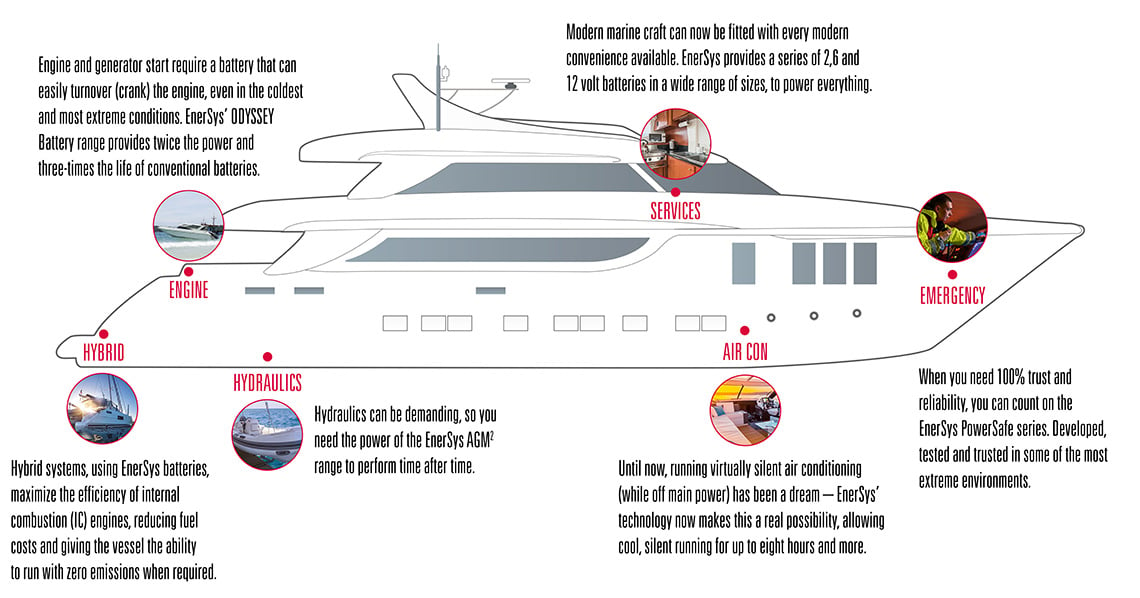 Today's modern boats are more power demanding with standard equipment now including navigation systems, trolling motors, lights, washing machines, electric ovens and hobs and even air-conditioning. The tried and tested technology provided by EnerSys ensures that batteries can be used in the harshest conditions and environments for all marine applications.
RANGES FOR MARINE
Stored power solutions for every marine application.
Viking prides itself on partnering with Vendors that provide Engineered Solutions for our demanding applications. Odyssey Battery delivers the Power, Performance and Reliability that exceeds our customer's high expectations for quality!

Pat Healey, CEO of Viking Yachts
NEED HELP FINDING THE BEST SOLUTION?
Get in touch and we can develop a unique solution to meet your stored power solution needs