Close
We've detected you are coming from a location outside of United Kingdom.
Would you like to:
PASSIVE OPTICAL LAN
Passive Optical LANs (POL) are replacing traditional copper-based local area networks (LANs) because deploying fiber optics to the edge of the network increases bandwidth and lowers TCO.
POL utilizes a fiber backbone effectively making network infrastructure future-proof. As technology evolves, only end points will require upgrades, unlike copper LANs which require disruptive rip-and-replace upgrades for cabling and equipment. POL is an infrastructure asset that improves the value of a building. EnerSys® pioneered the use of NEC® Class 2 distributed power systems to bring power to the POL Optical Network Terminations (ONT). Power is safely delivered over copper cables to ONTs located far from a power source. Like POL, the distributed copper power network becomes a valuable asset for building owners.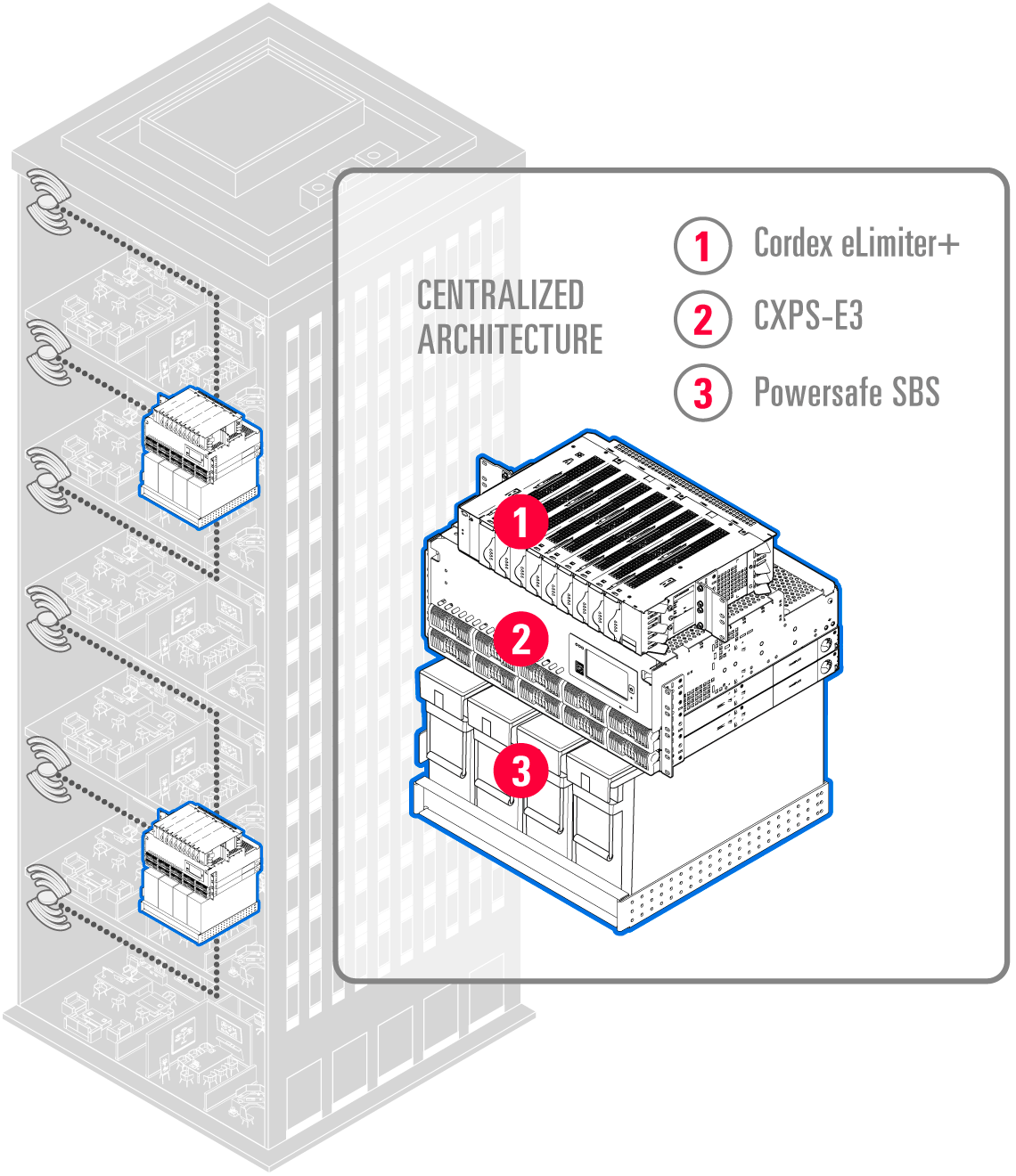 With power density and footprint in mind, our eLimiter+ Class 2 power distribution unit can power up to 36 ONTs. Cables extending from the eLimiter+ connect directly to the ONT, eliminating the need for an AC outlet at the far end. Compliance with Class 2 standards eliminate the need for licensed electricians to perform the installation and turn up.
Two primary power architectures address most buildings—centralized or distributed—usually defined by the size and shape of a building. The centralized architecture includes a -48VDC power plant and batteries located in a central location such as the basement. The -48VDC power connects to floors equipped with an eLimiter+. The single DC plant and batteries is simple to maintain plus requires minimum space on each floor.
In a distributed architecture, smaller -48VDC power plants are collocated with each eLimiter+. This lowers equipment and installation costs, but requires space in the equipment rooms.
ENERGY STORAGE SOLUTIONS
As the world leader in stored energy solutions, EnerSys provides integrated systems and services for many types of markets and industries.
STREETFLEX® UNDERGROUND SOLUTIONS
At EnerSys® we know the value of finding solutions to complex challenges! Speed is essential in the network and there can be no hiding place when customer expectations are not met, which is why we leave no stone unturned.

Discover our innovative underground passive enclosures for network access and cable broadband applications and keep out of sight, but not out of mind.
Learn More
EnerSys Services
From project initiation to end-of-life, our global suite of services supports your backup power needs while our global design, engineering and service specialists are ideally positioned to support your projects from conception and installation to on-site maintenance and after-sales service.
Remote power has been a key enabler in the growth of POL. For systems integrators, remote power improves reliability and lowers TCO.

Brian Hanson, EnerSys Strategic Account Manager
NEED HELP FINDING THE BEST SOLUTION?
Get in touch and we can develop a unique solution to meet your stored power solution needs