Close
We've detected you are coming from a location outside of United Kingdom.
Would you like to:
AUTOMATED GUIDED VEHICLES
AGVs are productive and flexible. They can run 24/7, lowering the risk of operator errors and injuries and taking on demanding tasks. Investment in AGVs to increase efficiency must be complemented by battery and charger equipment that will get the most out of them, keeping the vehicles moving when a labor force cannot.
Power is crucial to keep an automated guided vehicle (AGV) moving. This critical role is to avoid downtime of the fleet. EnerSys® provides a solution-driven approach for each AGV application to ensure you get the right battery and charger to fit your unique requirements. Whether you need high output charger capabilities or maintenance-free battery power, our team will work with you to understand your operations and supply the most efficient and reliable power solution. Backed by an installation and service team with a global presence, we also provide a full data integration package to allow communication between the power source and the AGV overall system.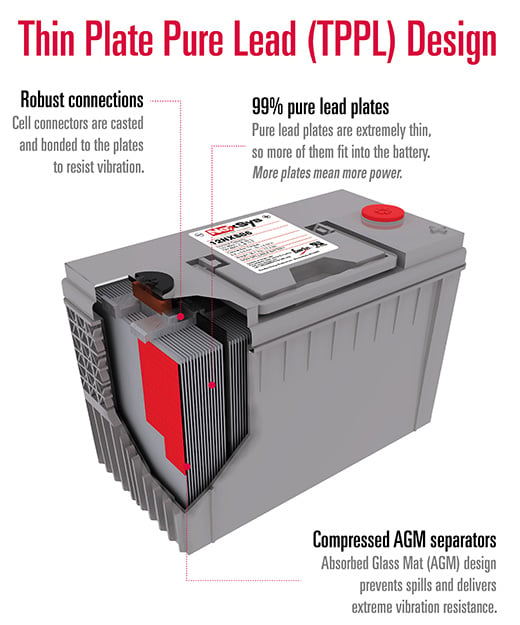 The key for providing an efficient AGV systems start with understanding the specific application and working patterns. Application studies and pre-engineering work is essential. The EnerSys method starts with an assessment on the customer's equipment, energy demand and what infrastructure to match the correct battery and charger. We understand your AGV fleet, we understand your work and we always provide the best and most sustainable solutions.
Our technology portfolio can cover any energy requirement:
Standard lead acid—entry level flooded batteries for the most economical upfront power solution
NexSys® Thin Plate Pure Lead (TPPL)—advanced lead acid with virtually zero maintenance, high energy throughput and the ability to work in a partial state of charge
NexSys® ion—Lithium-ion solution for the most demanding applications that require the highest energy throughput and charging flexibility
High frequency modular charger—offering the best charging efficiency together with the ability to customize charging profile based on application needs
RANGES FOR AGV'S
Get the most out of your AGV investment with batteries designed to improve productivity and save money.
EnerSys Services
Our mission is to provide our customers with a consistent, world-class service experience that maximizes the uptime of the EnerSys products that they rely upon. We will perform these services in a culture of respect for all, integrity, and the highest safety levels in our industry.
Due to its features, Thin Plate Pure Lead (TPPL) is the ideal choice for most AGV applications.

Timothy Wittig, EnerSys NexSys Sales Director
NEED HELP FINDING THE BEST SOLUTION?
Get in touch and we can develop a unique solution to meet your stored power solution needs