Close
We've detected you are coming from a location outside of United Kingdom.
Would you like to:

Reducing Our Plastic Footprint: How an EnerSys® Factory is Saving Time, Money and the Environment
At EnerSys, we are proud of our customer-focused and lean culture that emphasizes continuous improvement. We are committed to constantly identifying opportunities to optimize our operations – saving time, money and labor while also reducing our environmental footprint. One example is how we are reducing the use of shrink wrap plastic in our Richmond, Kentucky locations.
Previously, we transported batteries by wrapping them in plastic, transporting them by truck for a few miles to the distribution center, unloading them and immediately cutting off and throwing away the plastic. We recognized this process as wasteful and have since replaced the plastic wrap with strap-downs that are less costly and completely reusable. This improvement helped us cut our shrink wrap usage by 43% and also helped us reduce our overall man-hour time/day handling packaging significantly.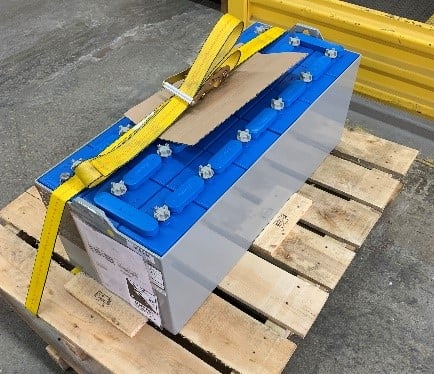 A battery is secured with a reusable strap instead of disposable plastic.
As Troy Baxter, the plant General Manager (Richmond, KY) explained, "We realized we were spending $103,000 annually on the plastic wrap alone, as well as a waste removal fee of $500 per month. By simply reducing our shrink wrap use, we are saving nearly $50,000 per year."
Additionally, we have realized efficiency through significant time and waste savings. It consistently takes over two minutes to remove the plastic wrap from each battery. Factored over the thousands of batteries we produce and transport, we save substantial hours each day that no longer need to be spent removing and disposing of the plastic. We estimate that the shrink wrap reduction saves the company an additional $40,000 annually bringing total annual savings to more than $90,000.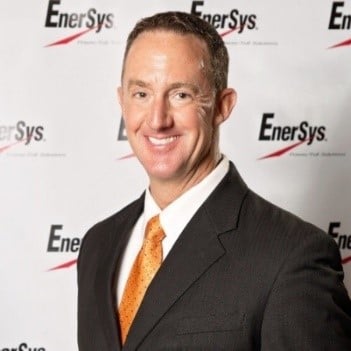 Baxter continues, "of course beyond operational savings, the shrink wrap reduction has also reduced our environmental footprint. By using reusable straps, we are no longer sending the single-use plastic wrap to landfills. We are reducing the greenhouse gas emissions from hauling away the waste and incinerating it at the landfill. We are also reducing the chance of the plastic waste polluting natural habitats".
As part of our commitment to sustainability, EnerSys continues to identify ways to streamline our operations, mitigate our environmental impacts, and operate as a responsible corporate citizen. Initiatives like this prove that what's good for the planet can and should be good for the business.
NEED HELP FINDING THE BEST SOLUTION?
Get in touch and we can develop a unique solution to meet your stored power solution needs